Summary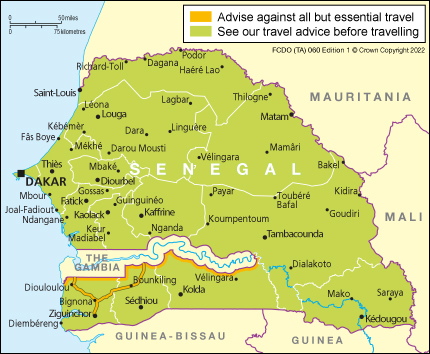 The Foreign, Commonwealth and Development Office (FCDO) advises against all but essential travel to:
• the land border between The Gambia and southern Senegal and the roads N4 and N5 (national highways) between The Gambia and Ziguinchor
COVID-19 entry restrictions for Senegal
Before you travel, check the 'Entry requirements' section for Senegal's current entry restrictions and requirements. These may change with little warning. Monitor this advice for the latest updates and stay in contact with your travel provider.
Travelling from and returning to the UK
Check what you must do to travel abroad and return to England, Scotland, Wales or Northern Ireland.
If you plan to pass through another country to return to the UK, check the travel advice for the country you're transiting.
If you're planning travel to Senegal, find out what you need to know about coronavirus there in the Coronavirus section.
If you are traveling between the UK and Senegal and transiting via a third country, check our travel advice for that country.
During the COVID-19 pandemic, it is more important than ever to get travel insurance and check it provides sufficient cover. See the FCDO's guidance on foreign travel insurance.
For information about COVID-19 vaccines, see the Coronavirus page.
Masks must be worn at all times in public areas and when travelling, including in a private car if there are two or more people in the car. See Coronavirus
Strikes by teachers' unions and student bodies, and demonstrations about political issues and the cost of living, are a relatively frequent occurrence, particularly in Dakar but also other cities. There is a heightened risk of protests ahead of the local elections in January. These are normally peaceful, but can sometimes turn violent at short notice. You should exercise caution and avoid areas where demonstrations and large gatherings are taking place, monitor the local media for information about forthcoming protests, and follow the instructions of local authorities. See Political situation
Pickpocketing and street crime are common in parts of Dakar, particularly around Place de l'Indépendance, the central area of the Plateau and the Western Corniche, as well as Gorée Island. There is a heightened risk of criminality in the run up to religious festivals. Be cautious when changing cash given the risk of false money circulating. See Safety and security
Terrorists are likely to try to carry out attacks in Senegal. Attacks could be indiscriminate, including in places visited by foreigners. See Terrorism
The FCDO advise against all but essential travel to the land border between The Gambia and southern Senegal (Casamance) and the roads N4 and N5 (national highways) between The Gambia and Ziguinchor.
You should be vigilant when travelling in Casamance, the region south of The Gambia. Where possible you should avoid travelling at night, stick to main roads and travel in a convoy when you can. The Casamance region has suffered from decades of low intensity separatist violence, largely directed at Senegalese security forces. While the security situation has improved significantly since 2012, there are occasionally violent incidents, including armed attacks on travellers. A military operation by Senegalese Armed Forces is underway north of Sindian in Casamance on the land border with Gambia. There is a lower level of risk in the main tourist areas of the Casamance. See Local travel
Most visits to Senegal are trouble-free.
If you're abroad and you need emergency help from the UK government, contact the nearest British embassy, consulate or high commission.
The Embassy continues to carry out essential work including providing 24/7 consular assistance and support to British people in Senegal.