United Kingdom commences membership on the United Nation's Committee on NGOs
Statement delivered by Richard Croker, UK Ambassador to the General Assembly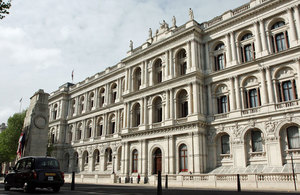 Thank you Mr Co-Chair,
The United Kingdom is proud to commence our membership on the United Nation's Committee on NGOs. The value of this Committee cannot be overstated. Its existence reflects that the UN recognises the essential contribution of civil society to our work. Civil society enriches the evidence base at our disposal, making our meetings more effective and more substantial. All this helps ensure that what we do here has impact on the ground. Therefore we begin our membership with the understanding of the responsibility that comes with it.
As demonstrated through our actions here at the UN, the UK is committed to championing civil society engagement. Regrettably, we do this in the face of opposition. A small group of Member States oppose civil society engagement with the UN, and seek to stifle their voices, fearing the scrutiny that civil society provides. We intend to seek approval of all applications from all legitimate NGOs. Therefore our scrutiny of NGOs will be only on the following categories in line with 1996/31.
The NGO must exist and be currently active.

The NGO is independent of government, with a majority of positions filled by individuals without government connection.

The NGO does not cause harm to people, property, or the environment.

The NGO and its staff are in adherence to the UN Charter, in that it does not engage in politically motivated attacks against member states, nor verifiably benefit from proceeds of criminal activity.
In recent years, this Committee has witnessed ever-increasing politicised deferrals - part of a wider trend of increasing reprisals against civil society actors who seek to engage with the UN. We encourage all Committee Members to use a fair and objective review process, and avoid blocking NGO applications for political reasons.
Such a commitment will foster deeper civil society engagement at the UN, while helping to reduce the backlog in applications. As Members, we all have an interest in making this Committee as effective and efficient as possible. That is why the UK is supportive of any effort designed to improve the working methods of the Committee.
In order to help deliver the Secretary-General's Commitment to inclusive multilateralism, we urge all Committee Members to facilitate a safe and welcoming space for civil society participation at the UN.
Thank you.
Published 23 January 2023