Sixth Meeting of the UK Commission on Covid Commemoration
The UK Commission on Covid Commemoration held its sixth meeting.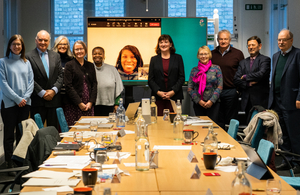 The Commission met for the sixth time, on Wednesday 18 January 2023, following a busy 6 months of work which has seen much welcomed participation and contributions from many individuals, communities, and groups across the UK.
The Commission is grateful to all those who contributed their time and input to this vitally important work. We are especially grateful to all those that gave their time to share their difficult stories with us and their thoughts on the best way to commemorate the loss of their loved ones.
The Commission will now turn its focus to agreeing a final version of the report to present to the Prime Minister by the end of March 2023.
Published 24 January 2023