Support for bereaved families to be extended
Bereaved cohabitees with dependent children will soon be eligible for additional financial support, following a successful debate in the House of Commons today (24 January 2023).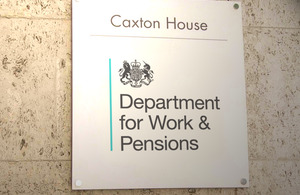 The Department for Work and Pensions (DWP) is in its final stages of extending Bereavement Support Payment and Widowed Parent's Allowance to working age parents who were not married or in a civil partnership with their late partner.
Subject to final Parliamentary approval of the draft Bereavement Benefits (Remedial) Order 2022, the application window is expected to open early this year, allowing more parents to claim.
Some people may be eligible for backdated payments if their partner died before the law was changed. The DWP will publish more details on gov.uk soon, explaining the application window and how to claim.
Minister for Work and Pensions Viscount Younger of Leckie said:
I am pleased to see this important change is nearing its very final steps to becoming law, so more bereaved parents can access this support.
Claims for Bereavement Support Payment will be made on gov.uk or by calling DWP's Bereavement Service helpline. Claims for Widowed Parent's Allowance will be processed by paper, with applications downloadable via gov.uk.
Further Information
Contact Press Office
Media enquiries for this press release – 0115 965 8781
Follow DWP on:
Published 24 January 2023