Criminal gang activity and human rights violations continue to threaten the peace and stability of Haiti: UK statement at UN Security Council
Statement by Alice Jacobs, UK Deputy Political Coordinator at the UN, at the Security Council briefing on Haiti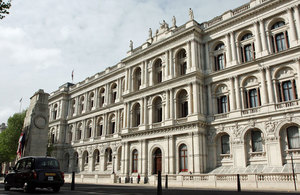 The United Kingdom would like to join others today in extending our sincere condolences to the people of Gabon for the passing of Foreign Minister Moussa Adamo.
I'd like to thank SRSG La Lime for her briefing today and the continued work of BINUH in Haiti.
And we welcome the participation of the Foreign Minister of the Dominican Republic and the Permanent Representatives of Haiti and Canada.
President, the UK remains deeply concerned by the dire humanitarian and security situation in Haiti. The figures speak for themselves: 58% of the population under the poverty line; 4.7 million acutely food insecure and an increase of kidnappings in 2022 of over 100% compared to the previous year. We've also heard chilling accounts of the widespread use of sexual violence by armed gangs as a weapon to instil fear into communities.
It is in this context that we recognise the need for an urgent response to Haiti's request for international assistance and we look forward to further Council discussion on the authorisation of an international security assistance mission, as proposed by the Secretary General. Such a mission would have to be led by Haitian needs and should aim to contribute towards the restoration of effective governance through combatting endemic gang violence.
We also recognise the role of targetted sanctions in this regard. Following the establishment of the Sanctions Committee, we stand ready to consider further designations against those involved in criminal gang activity and the human rights violations that continue to threaten the peace, stability and security of Haiti.
However, sanctions alone do not offer a solution. Now is the time for Haitians to come together to find a solution to the political impasse: one that tackles the deep rooted economic, humanitarian and security challenges blighting the daily lives of the Haitian people. The UK welcomes recent moves towards a broader dialogue and efforts to reach a consensus. We renew our call for all actors to partake in political dialogue and to work together to identify and implement a consensus route towards democratic elections.
Thank you.
Published 24 January 2023