UKVI launches Super Priority Visa service in Sydney
From 16 January 2023, those applying for a UK visa in Sydney, Australia, will have the option of paying to get a faster decision on their application.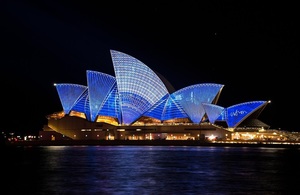 A Super Priority Visa (SPV) is an optional, paid service that customers in select locations around the world can purchase, in addition to the visa fee, to receive a faster decision on their visa application. The service isn't currently available for new family or settlement applications.
Customers who choose SPV will be able to receive a decision on their UK visa application by the end of the next working day.
The fee for the Super Priority Visa Service is currently £956, plus the standard fee for the type of visa being applied for.
The processing time for a Standard UK visa is 15 working days, although this excludes evenings, weekends or national, public holidays, and in some instances applications may take longer.
The very latest visa decision waiting times for each visa category arepublished on gov.uk. This also includes additional information about the priority services for those applying outside of the UK.
For more information about the range of other added value services available to customers in Australia please check out our/VFS' website: https://visa.vfsglobal.com/aus/en/gbr/
Additional info
Australian nationals can stay in the UK as a tourist for up to 6 months without a visa but must meet the Standard Visitor eligibility requirements.
Published 25 January 2023