Windfarm Mitigation for UK Air Defence (Phase 3)
Phase 3 of a DASA Competition to identify technologies that can mitigate against the effect of future Windfarm development.
Details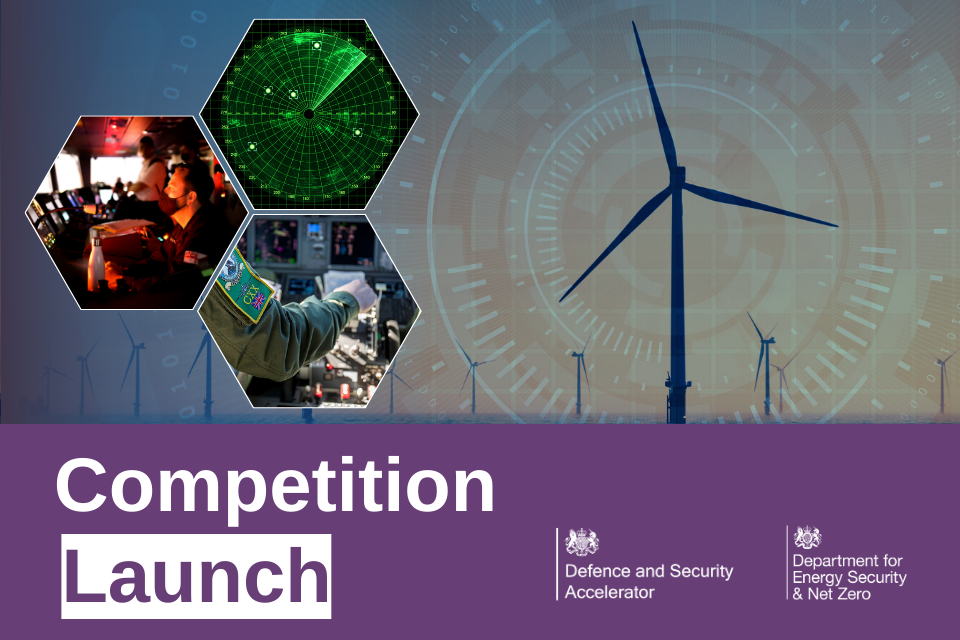 Please note: for the period midday 22 February 2023 – 29 March 2023 you will not be able to use the submission service to submit a proposal to the Themed Competition Windfarm mitigation for UK Air Defence (Stream 1) (Phase 3). Normal service will resume during 29 March 2023. More information can be viewed here.
Should you wish to start an offline application ahead of this time please use the walkthrough document (Annex 4A) and relevant offline Proposal Template form for guidance on the questions and word counts
The UK Ministry of Defence, through its Defence and Security Accelerator (DASA), in partnership with the Department for Energy Security and Net Zero (DESNZ) has launched Stream 1 of Windfarm Mitigation for UK Air Defence: Phase 3. This competition builds upon Phases 1 & 2 and seeks to advance innovative technologies to enable the long-term co-existence of offshore windfarms and Air Defence radar. Stream 2 is expected to launch at a later date – see Competition Document for more details.
The competition is funded by the DESNZ Net Zero Innovation Portfolio (NZIP) and is undertaken in partnership with the Royal Air Force (RAF), the Defence Science and Technology Laboratory (Dstl), and DASA.
This Competition is funded via a DESNZ grant
This Phase 3 competition run by DASA on behalf of DESNZ, highlights a key DASA priority to support acceleration of funded proposals towards commercialisation. This competition moves away from the standard DASA process, instead, innovators will compete for a DESNZ grant which will seek match funding from the applicants. As a result, innovators will be asked to consider their business case and provide detailed business information, alongside the standard DASA submission. Our team of Innovation Partners will be available to discuss this with Innovators, and events will be run to ensure innovators are in the best position to proceed. Other DASA competitions will continue to follow the regular DASA submission process.
Funding, key dates and supporting events
Up to £14.15 million funding is available for this Themed Competition.
Where do I submit my proposal?
Via the DASA Online Submission Service for which you will require an account.
Only proposals submitted through the DASA Online Submission Service will be accepted.
The deadline to submit a proposal is midday 20 April 2023 (BST).
Stakeholder Engagement Event (6th March)
DASA and DESNZ are organising a hybrid Stakeholder Engagement Event on Monday 6th March at KIA Oval in London. The event will:
Showcase the progress of 7 projects funded in Phase 2
Promote Phase 3 of the competition (Q&A)
Provide an opportunity for stakeholder engagement and networking
Book your space at the event here.
One-to-One Dial in sessions (8th March)
A series of 20 minute one-to-one teleconference sessions, giving you the opportunity to ask specific questions. If you would like to participate, please register on the Eventbrite page. Booking is on a first come first served basis.
Collaboration Survey
In Phase 3, we encourage collaboration between suppliers. To support this, we have a short survey to collect details of suppliers who wish to explore collaboration possibilities. This collaboration list will be circulated on a weekly basis to all those who have signed up.
Published 21 February 2023
Last updated
16
March 2023
+ show all updates
Offline proposal template form attached

Responses to questions at Stakeholder event have been added as Appendix 4 Submission Portal opening date changed

Updated information regarding opening date of submission portal

Annex 4A has been updated to better reflect the workflow of the submission process

First published.