Government reaffirms support for the ban on hunting trophies
The Hunting Trophies (Import Prohibition) Bill has been passed by the House of Commons.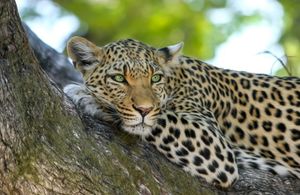 The Government made a manifesto commitment to ban imports of hunting trophies of endangered animals and today has supported the passage of Henry Smith MP's Private Member's Bill which delivers this.
The Government will continue to support the Bill in the Lords helping to protect animals listed by the internationally agreed Convention on International Trade in Endangered Species (CITES).
After the debate, International Biodiversity Minister Trudy Harrison said:
"This is a pivotal moment in delivering one of our key manifesto commitments on international conservation and animal welfare. Using an internationally agreed list of species, this will play an important part in helping reverse the decline of wildlife across the world. I look forward to it becoming an Act of Parliament."
Conservative MP for Crawley Henry Smith said:
"At the last General Election we stood on a manifesto commitment to ban imports of hunting trophies of endangered animals. The House of Commons passing this legislation today marks an important moment in ensuring that this pledge to support conservation becomes a reality.
"I'm grateful to the Government for supporting my Hunting Trophies (Import Prohibition) Bill and I look forward to it now progressing through the House of Lords.
"Our country does not want to be part of a trade in the body parts of endangered species. Today the Commons sent this message loud and clear."
The Bill will ban the import of trophies hunted from around 6,000 species including lions, elephants, rhinos, and polar bears.
It follows the government's world-leading Ivory Act which came into force last year, introducing a near total ban on the import, export and dealing of items containing elephant ivory in the UK. We will also be setting out measures in due course on whether to extend that ban to other ivory bearing species.
The Government will also support Angela Richardson's Animals (Low-Welfare Activities Abroad) Bill in the Lords, which will provide the ability for government to ban the sale and advertising of activities abroad which involve low standards of welfare for animals.
Notes to Editors:
Species at risk from international trade are listed in CITES Appendices 1 and 2 and are translated into domestic law by the Wildlife Trade Regulations Annexes A and B.
Published 17 March 2023