Export bar placed on rare 18th-century gun made for the Sultan of Mysore
Export bar placed on Tipu Sultan of Mysore's Flintlock Sporting Gun to allow time for a UK institution or buyer to acquire it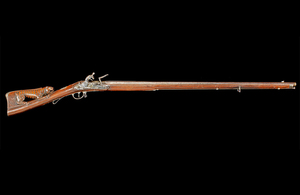 The elaborately decorated gun was made in India for the Sultan between 1793 and 1794
The decision to place an export bar follows the independent advice of the Reviewing Committee on the Export of Works of Art and Objects of Cultural Interest
An 18th-century gun made for the Sultan of Mysore and valued at £2 million has had its export barred to allow time for a buyer to come forward to keep it in the UK for public study and education.
Arts and Heritage Minister Lord Parkinson of Whitley Bay has placed an export bar on Tipu Sultan of Mysore's Flintlock Sporting Gun in the hope that it can be put on public display here in the UK.
The Minister's decision follows the independent advice of the Reviewing Committee on the Export of Works of Art and Objects of Cultural Interest.
The elaborately decorated gun was made for the Sultan of Mysore and is dated between 1793 and 1794. The fourteen-bore gun was designed for shooting game and is signed by its maker, Asad Khan Muhammed.
Known as the Tiger of Mysore, Tipu Sultan was a defiant opponent of the British East India Company and its allies during the Anglo-Mysore Wars. He was killed on 4 May 1799 while defending his stronghold of Seringapatam (Srirangapatna).
Following his death, his distinctive personal weapons were given to leading military figures. This firearm was presented to General the Earl Cornwallis, who had previously fought Tipu between 1790 and 1792.
The expert committee found the gun to be of aesthetic importance as well as significant to the study of Tipu Sultan and his court, to Lord Cornwallis, to British history, and to the conclusion of the third Anglo-Mysorean war.
Its assessment was based on the 'Waverley Criteria', established in 1952 to decide on works of art and cultural objects which deserve efforts to keep them in the country. At a speech to mark the 70th anniversary of the criteria last year, Lord Parkinson noted the important role they had played in preserving cultural heritage and sharing it with a wide public audience, and took the opportunity to invite thoughts on how they should continue to operate. He asked, for instance, "are we considering items' connection to the history of other countries, or whether they are destined for public display rather than private collection?" His full speech can be found on gov.uk
Committee Member Christopher Rowell said:
This is the finest and most elaborately decorated of the personal firearms made for Tipu Sultan, ruler of Mysore, a large state in South India. Dated 1793–4, this fourteen-bore gun was designed for shooting game and is signed by Asad Khan Muhammad. It is extremely beautiful as well as technically advanced.
The mechanism allows two shots to be fired from the single barrel without reloading, revealing the probable influence of itinerant French gunmakers. Tipu's court was sophisticated and its workshops produced a variety of fine metalwork including weaponry and ordnance, which was stylish as well as deadly.
Tipu was fascinated by Western technical innovations, including rocketry, but his leanings towards France antagonised Britain, which waged four wars against Mysore. In 1799, he was killed as the British army overran his capital, Srirangapatna [Seringapatam]. Among the victorious officers was Colonel Arthur Wellesley, the future Duke of Wellington and hero of Waterloo.
This superbly executed sporting gun was presented to General Earl Cornwallis, victor of the previous war against Tipu in 1790-2, which had forced the Sultan to cede half his territory.
Tipu was known as the 'Tiger of Mysore' and his personal emblems are ubiquitous, from the tiger with brass-inlaid eyes carved into the hardwood stock to the stylised tiger stripes inlaid in silver along the blued steel barrel. One of the silver mounts depicts a tiger attacking European soldiers, an image redolent of 'Tipu's Tiger' in the V&A.
Given its aesthetic significance, its impeccable provenance, its scope for further research and its relevance to both British and Indian history, I hope that this superb fowling piece made for the unfortunate ruler of Mysore, Tipu Sultan, will be acquired by a British Institution where it can be appreciated by all.
Arts and Heritage Minister Lord Parkinson of Whitley Bay said:
This visually striking firearm is a significant antiquity in its own right, as well as an illustration of the important, interconnected history between Britain and India.
I hope that it can be shared with the widest possible public and used to deepen our understanding of a fraught period which shaped both our nations.
The decision on the export licence application for the gun will be deferred for a period ending on 25 September 2023 (inclusive). At the end of the first deferral period owners will have a consideration period of 15 Business Days to consider any offer(s) to purchase the gun at the recommended price of £2 million.The second deferral period will commence following the signing of an Option Agreement and will last for four months.
ENDS
Notes to editors:
Organisations or individuals interested in purchasing the gun should contact the RCEWA on 02072680534 or rcewa@artscouncil.org.uk

Details of the gun are as follows: Flintlock Sporting Gun of Tipu Sultan. Hardwood stock, carved, with silver mounts, steel barrel chiselled and inlaid with gold and silver. Length: 138 cm. Length barrel: 97.8 cm. Made in Srirangapatnam (Seringapatam) by Asad Khan Muhammad, dated 1222 M./AD 1793-4

Provenance: Presented to Lord Cornwallis after the Fall of Seringapatam, 1799; By descent to the Earls of Pembroke, Wilton House; Robin Wigington collection, the Arms and Armour Museum, Stratford-upon-Avon; Private collection, acquired at Sotheby's, The Tipu Sultan Sale, 25th May 2005, lot 54. Acquired by the current owner at Bonham's, ISLAMIC AND INDIAN ART sale, 21 Apr 2015, Lot 154.

The Reviewing Committee on the Export of Works of Art and Objects of Cultural Interest is an independent body, serviced by Arts Council England (ACE), which advises the Secretary of State for Culture, Media and Sport on whether a cultural object, intended for export, is of national importance under specified criteria.

Arts Council England is the national development agency for creativity and culture. Its strategic vision in Let's Create is that, by 2030, England should be a country in which the creativity of everyone is valued and given the chance to flourish and where everyone has access to a remarkable range of high-quality cultural experiences.

ACE invests public money from the government and the National Lottery to support the sector and deliver the vision. Following the Covid-19 pandemic, ACE developed a £160 million Emergency Response Package, with nearly 90 per cent coming from the National Lottery, for organisations and individuals needing support. It is also one of the bodies administering the Government's unprecedented Culture Recovery Fund.
Published 26 May 2023