Democratic Republic of the Congo
Summary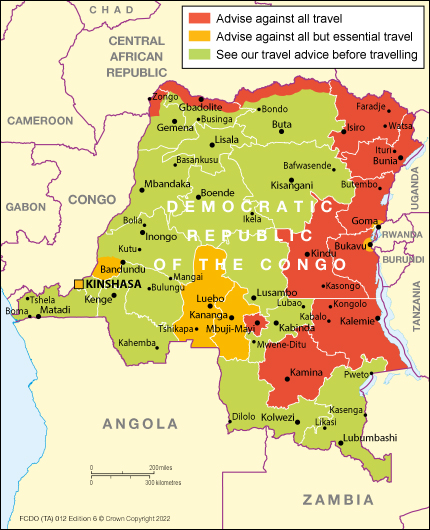 The Foreign, Commonwealth & Development Office (FCDO) advises against all travel to:
the provinces of Kasaï Oriental, Haut-Uele, Haut Lomami, Ituri, North Kivu. South Kivu (except the city of Bukavu - see below), Maniema and Tanganyika in eastern DRC
within 50km of the border with the Central African Republic and South Sudan
The FCDO advises against all but essential travel to:
the city of Bukavu in South Kivu province
the districts of N'djili and Kimbanseke in Kinshasa, both of which are south of the main access road to N'djili airport (located in Nsele district)
the provinces of Kasiaï and Kasiaï Central
the territory of Kwamouth (located in Mai-Ndombe province)
the city of Goma in North Kivu province
Before you travel, check the 'Entry requirements' section for Democratic Republic of the Congo's current entry restrictions and requirements. These may change with little warning. Monitor this advice for the latest updates and stay in contact with your travel provider.
If you plan to pass through another country to return to the UK, check the travel advice for the country you're transiting.
It is more important than ever to get travel insurance and check it provides sufficient cover. See the FCDO's guidance on foreign travel insurance.
Opposition parties plan to hold an unauthorised demonstration on 25 May at 0930 outside the Electoral Commission (CENI) in Kinshasa. Travel may be disrupted on or around this area. You are advised to avoid the central station area. We advise all UK nationals in DRC to avoid demonstrations, protests, or disturbances. See Protests and demonstrations
Fighting between local militia and Congolese Armed Forces has been reported (May 2023) on RN1 in the vicinity of Kenge 270km east of Kinshasa. National forces have closed the road meaning road travel between Kinshasa and Kikwit is not currently possible.
After heavy rains on 3 May 2023, flooding and landslides have affected several territories in South Kivu Province, eastern DRC. At least 400 people are known to have died. There is potential for further floods and landslides during the rainy season. See Natural disasters and Safety and security
The security situation in eastern DRC, including around the city of Goma remains unstable and subject to rapid change. See Safety and security.
In eastern DRC there are continued reports of attacks and kidnappings. See Safety and security
Inter-communal violence between ethnic groups over land in Kwamouth territory of Mai-Ndombe province has been ongoing since August 2022. See Inter-communal violence
On 22 May 2021, Mount Nyiragongo volcano, close to the city of Goma, and near the border with Rwanda erupted. Further volcanic activity is possible in future. See Natural disasters
Consular support is severely limited in parts of DRC. The lack of infrastructure throughout the country and insecurity in eastern DRC often prevent the British Embassy in Kinshasa from being able to extend normal levels of consular assistance to British nationals anywhere in the DRC other than Kinshasa. You should not assume that the FCDO will be able to provide assistance to leave the country in the event of serious unrest or crisis.
Street crime and robbery is common. You should avoid using any taxis in DRC. If you must take a taxi, use a privately booked one. Don't hail taxis in the street. Beware of gangs promising you cut price gold and diamonds. See Crime
Terrorists are very likely to try to carry out attacks in the DRC. Attacks could be indiscriminate. You should be vigilant, especially in places visited by foreigners. See Terrorism
If you're abroad and you need emergency help from the UK government, contact the nearest British embassy, consulate or high commission.