Competition: Space to Innovate Campaign - Charlie Drop
This Defence and Security Accelerator (DASA) competition seeks proposals for novel and innovative future space science and technologies.
Details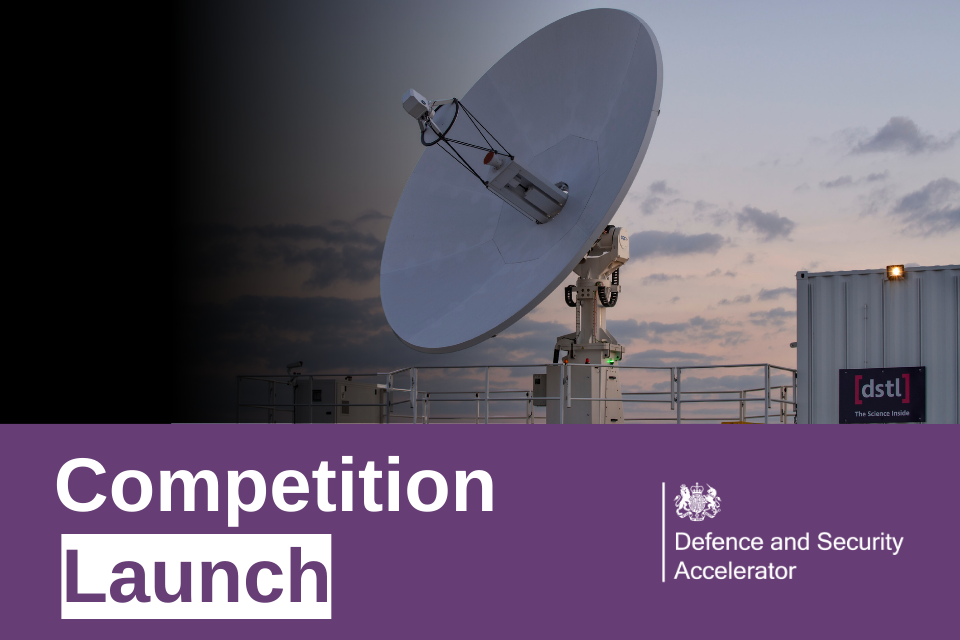 The Defence Science and Technology Laboratory (Dstl) Space Systems Programme is seeking proposals that can aid UK Defence and Security to develop future space science and technologies. The Defence and Security Accelerator (DASA) Space to Innovate Campaign was established in 2019 as an overarching space themed DASA competition. Progressing from the prior Space to Innovate Phase 1 and International Space Pitch Day competitions, the Space to Innovate Campaign's two previous challenge drops, Alpha Drop and Bravo Drop, have furthered DASA's space focus. Charlie drop follows on from this and offers a range of broader challenges to explore a greater range of novel science and technologies.
What innovations are we looking for?
Novel ways to achieve fine resolution collection for intelligence, surveillance & reconnaissance (ISR)

Technologies and techniques to alert, protect and defend satellites

Satellite and ground segment technologies for future Defence and Security operations
Total funding available
The total funding available for Charlie Drop is £1.5 million (excl VAT). We expect to fund between 3 and 12 proposals over a 24 month period.
The initial £1.5 million for the Charlie Drop competition is funded by MOD Chief Scientific Adviser (CSA). Funding from other MOD or wider government stakeholders may become available over the duration of the competition; if so, this will be reflected in a revised version of the competition document.
Proposals from Charlie Drop that are deemed to be 'fundable not funded' will be available for funding by any UK government stakeholder up to one year after the outcome decision is released to bidders. For the purpose of this competition your bid may be shared with experts in other government departments.
Follow-on work
Once the initial contract is completed there will be a decision point where the Authority will decide whether it wishes to progress this work further. Follow-on work will be considered on its own individual merits and is not subject to further DASA competition processes.
Any follow-on work will be contracted via costed options for one or more discrete, clearly bounded optional work packages up to a total of £4 million (excl VAT), built into the original DASA contract. As part of the proposal for the initial agreement, the supplier should add a line for unspecified costed options not exceeding a total of £4 million (excl VAT). This is in addition to the funding required to deliver the initial work. The total value of the contract will thus be £4 million plus the value of the initial work.
All costed proposals for follow-on work should be valid for one year from their submission. The scope of work for any costed options must be within the technical scope of the original proposal. For the purposes of this competition no follow-on work should exceed Technical Readiness Level 6 (TRL 6).
There is currently no funding allocated for follow-on work. The Authority will consider an allocation for additional options on completion of the initial contract. The Authority is under no obligation to undertake any of the costed options submitted for consideration as a contract deliverable, and reserves the right to end proceedings after the initial contract is complete.
Submission deadline
12.00 BST Midday on Wednesday 12 July 2023.
Where do I submit my proposal?
Via the DASA Online Submission Service for which you will require an account.
Only proposals submitted through the DASA Online Submission Service will be accepted.
You must not submit any information classified above Official. If you wish to add supporting information which might be Official-Sensitive or Secret you should contact DASA in advance and we will discuss solutions with you.