Summary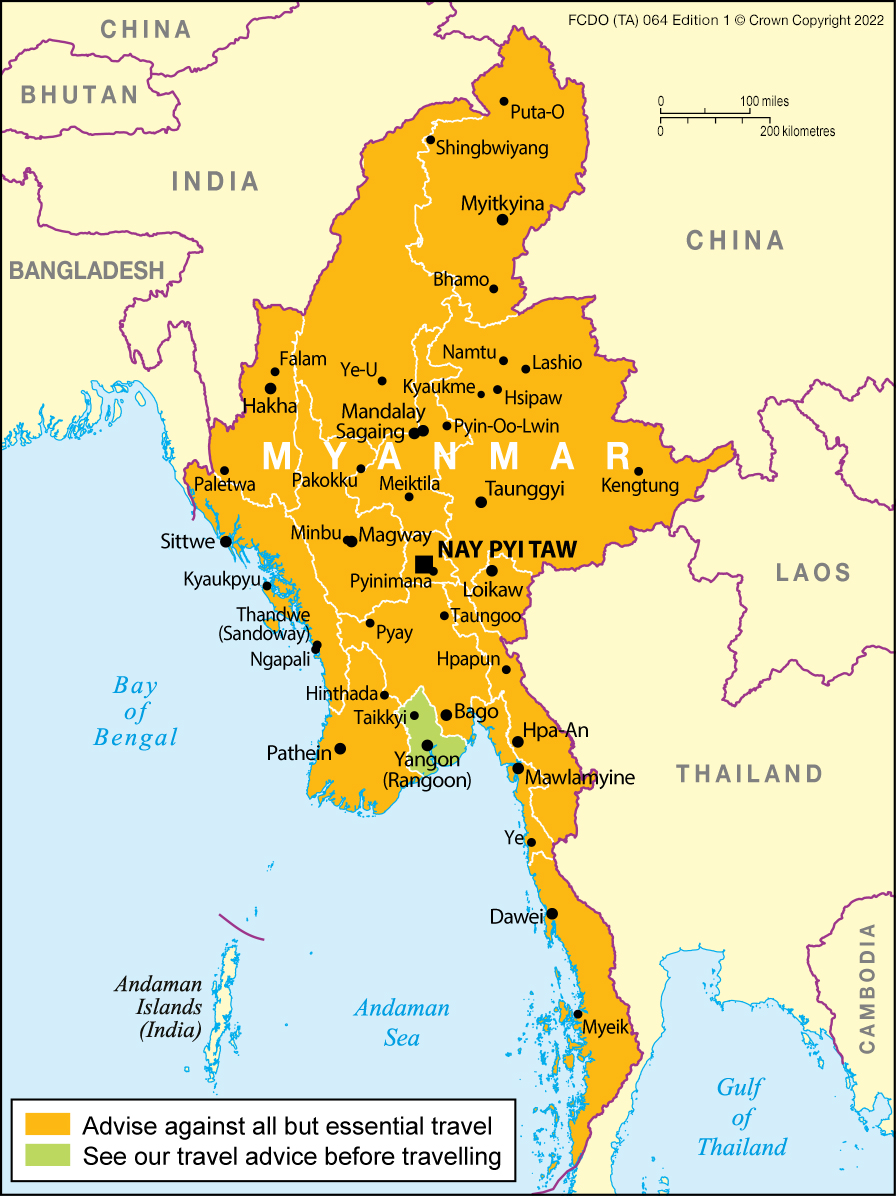 The Foreign, Commonwealth and Development Office (FCDO) advises against all but essential travel to Myanmar, except for the Yangon region.
COVID-19 entry restrictions for Myanmar
Before you travel, check the 'Entry requirements' section for Myanmar's current entry restrictions and requirements. These may change with little warning. Monitor this advice for the latest updates and stay in contact with your travel provider.
Travelling from and returning to the UK
Check what you must do to travel abroad and return to England, Scotland, Wales or Northern Ireland.
If you plan to pass through another country to return to the UK, check the travel advice for the country you're transiting.
If you're planning travel to Myanmar, find out what you need to know about coronavirus there in the Coronavirus section.
During the COVID-19 pandemic, it is more important than ever to get travel insurance and check it provides sufficient cover. See FCDO guidance on foreign travel insurance.
For information about COVID-19 vaccines, see the Coronavirus page.
A state of emergency remains in place across Myanmar.
The security situation in Myanmar is unpredictable and liable to change without notice. There is significant conflict and violence across many of Myanmar's states and regions, involving air strikes, artillery bombardments, landmines and armed clashes. In urban areas, there have been shootings and targeted explosions, although normal city life has resumed in large parts of Yangon. Travellers are able to move freely around the city but should expect occasional road blocks and security checks. Military buildings, vehicles or personnel have previously been attacked. Military barracks, military-linked township wardens, or infrastructure landmarks (e.g. telephone masts) may be possible targets.
If you are in Yangon region, remain vigilant, exercise caution and seek local advice. You should ensure you are aware of local rules, norms, and restrictions, especially if travelling to townships under martial law. Current townships under martial law are Hlaing Thayar, Shwe Pyithar, North Okkalapa, North Dagon, South Dagon and Dagon Seakkan, but these are subject to change. See the 'Safety and security' page for more details.
There is a risk that you could be arbitrarily detained or arrested. The criminal justice process followed in such cases falls below international standards. Myanmar does not recognise dual nationality.
The authorities in Myanmar are particularly sensitive to all forms of independent reporting and journalistic activity.
Terrorists are likely to try to carry out attacks in Myanmar. You should remain vigilant and follow the advice of local authorities. See Terrorism
The banking sector has seen widespread disruption with many banks closed and some ATMs empty. Electronic payments continue to function within the country but you should ensure you will be able to make payments in advance. See Money
UK health authorities have classified Myanmar as having a risk of Zika virus transmission. For information and advice about the risks associated with Zika virus, visit the National Travel Health Network and Centre website.
Urban areas, particularly Yangon and Mandalay, can experience poor air quality. See Health
If you're abroad and you need emergency help from the UK government, contact the nearest British embassy, consulate or high commission. You should not assume that the FCDO will be able to provide assistance to leave the country in the event of serious unrest or crisis. If you're arrested or detained, ask police or prison officials to notify the British Embassy immediately.
The Overseas Business Risk service offers information and advice for British companies operating overseas on how to manage political, economic, and business security-related risks.